Use our special sice mixes to create your own classic world dishes
Our
Recipes

, Your Kitchen
Stanley and Paula present a collection of recipes from around the world using our special spice mixes. Great quality dishes inspired by Stanley Street and ready to be made by you in your own kitchen.
What you will need
Lamb or mutton
4 tblsp water
1 onion finely chopped
1 clove of garlilc
1 tsp minced ginger
1 tblsp vegetable ghee or oil
2 tblsp tomato puree
½ pint stock
1 handful chopped coriander
3 level tblsp Jammu spice blend
Natural Yoghurt
Method
Marinate Meat in 1 tblsp of spice mix for 2 to 4 hours or overnight
In a heavy bottom oven proof pan add ghee/oil and heat
Add onion, garlic and ginger and saute until it starts to colour
Add 4 tblsp water and cook until water evaporates
Add 2 tblsp of spice mix
Put meat into the pan and brown
Stir in tomato paste then the stock
Leave to cook for 10 mins
Cover and place in the oven at 185 degrees c for 2/2.5 hours until the meat is tender
Mix in yoghurt and coriander and serve
What you will need
1 250g block of Paneer ( can substitute with chicken or vegetables )
1 medium Onion cut into 8 wedges
2 cloves of garlic – chopped
2 tbsp minced ginger
1 tbsp ghee or oil
I handful of chopped coriander
3 tbsp of Sri Lankan Buddah Blend spice
100ml can of coconut milk
½ pint of vegetable stock
1 bunch of spinach
Method
Marinate Paneer in 1 tbsp of the spice mix
In a heavy bottom pan heat up ghee/oil and add onions, saute until translucent add garlic and ginger and saute for another minute
Add 3 tbsp of water and cook out until evaporated
Add 2 tablespoons of Sri Lankan spice mix and cook for 2 mins
Add cubed paneer and combine
Pour in the stock and simmer until reduced by half
Add coconut milk with corander and reduce again until it thickens
Mix in washed and chopped fresh spinach and cook for 5 more mins
Season with salt and pepper to taste
Description: Inspired by the spice gardens of Kerala, in Southern India. Once known as the spice capital of the world. This spice mix is very different to Indian cuisine from other areas. One of our favourites!!
Spice Kit: available to purchase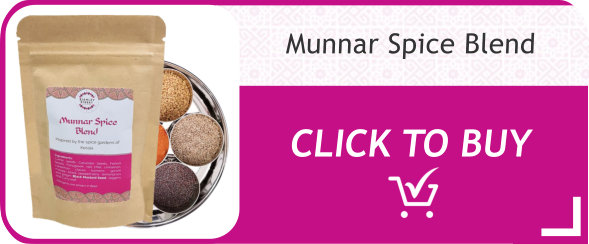 What you will need
1 Onion
1 Clove of garlic
1 tblsp Ginger
Tin of coconut milk
1kg Pork shoulder ( serves 4)
Fresh Coriander
Chicken stock
2tbsp malt vinegar
2tbsp soft brown sugar
Method
Rub a tablespoon of the spice mix into the pork and leave overnight in the fridge (or for a couple of hours at least)
In a heavy bottom, oven proof casserole dish, add 2tblsp of Ghee or preferred cooking oil
Sweat the Onion, Garlic and ginger on a low heat until translucent
Add the sugar and vinegar and cook until the sugar has dissolved
Add 2 tblsp of the Munnar spice mix and stir in
Add the pork and sear on the outside
Add chicken stock and simmer until reduced by a quarter
Stir in the coconut milk
Place lid onto the casserole dish and pop into the oven on 180 degrees C for 2 and half to 3 hours until the pork is tender
Remove the pork and set aside to portion (this should easily fall apart)
Place the casserole back onto the stove and add 50g of finely chopped coriander.
Season to taste and then coat the pork with the sauce
Serve with rice and nan bread
for your event or catering requirement, to check a date, talk menus, or get a quote