Classes, Food Delivery & more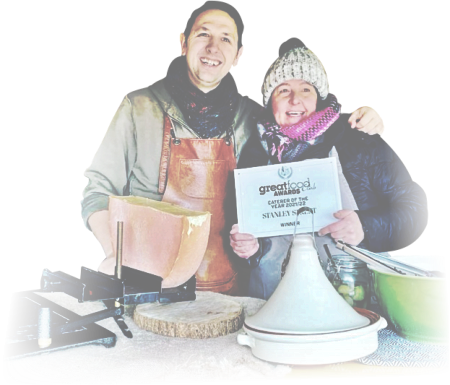 Caterers

serving Peterborough, Oundle, Stamford & Northants

Based in Barnwell, Northants near Peterborough, award winning Stanley Street offer bespoke catering packages for a wide variety of events & weddings, as well as offering, cooking classes, spice kits, and dine at home locally delivered meals.
Stanley and Paula's reputation has been hard earned over many years catering to events large and small, using locally sourced ingredients, often creating dishes of authentic flavour with a trademark Middle Eastern influence. Attention to detail creating tempting and aesthetically pleasing menus sees Stanley Street win regular awards and accolades.
A vast array of menu choice is on offer along with a passionate enthusiasm for special requests. Based from a bespoke unit in Barnwell (nr Oundle, Peterborough) with large kitchens and dining space, customers are welcome to drop by. You'll also find the Stanley Street stall at local food fairs, festivals, parties, weddings and pop-up events.

Private Chef
hire us as your private chef for any occasion

Weddings
traditional or a wedding with a difference

Deliver & Dine
prepared meals cooked by us and delivered to you

Parties & Occasions
a menu designed for your special event with service if required

Recipes
text to be added here explaining this one

Corporate
platters for meetings, buffets or hot lunches or to impress

Spice Kits
blended spice mixes and recipe cards so you can create

Classes
teaching our passion for cooking for individuals or groups
Our
Spice Mixes

Delivered to You